High Velocity Heating Service, High Velocity HVAC Installation & High Velocity AC Repair

Evanston, IL, Lincoln Park, IL, Park Ridge, IL, Skokie, IL, Wilmette, IL & Morton Grove, IL
If you're looking for central air conditioning and heating without a huge, messy teardown project, consider High Velocity HVAC. Designed for non-invasive retrofit into older, vintage homes, or anywhere you'd like to avoid conventional ductwork, the installation avoids the need to gut your residence. Rather than a traditional duct system, narrow, flexible tubing snakes through existing walls, ceilings, or even floors and small diameter vents incorporate beautifully into any decor. While the equipment is compact, the level of cooling and heating is exceptionally powerful.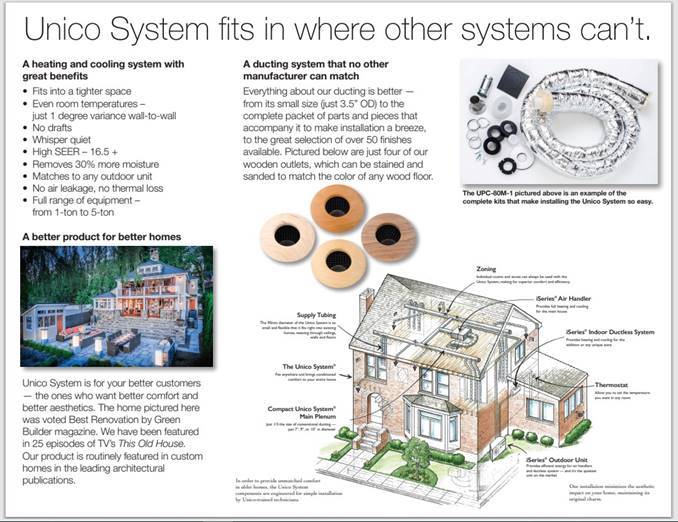 Call on us for prompt high velocity HVAC system services!
Guardian Heating & Cooling Service brings whisper quiet, wonderfully efficient high velocity heating and cooling to homeowners in Chicago, IL and surrounding areas. Our factory trained, NATE-certified professionals design and install a system perfect for you, ensuring very evenly distributed comfort. Based on the principle of aspiration, the equipment creates a gentle suction that draws the room air into the stream of conditioned air, avoiding drafts and temperature stratification. The temperature will vary no more than two degrees from room to room or floor to ceiling.
Expert high velocity HVAC system installations!
Guardian Heating & Cooling Service partners with such widely-recognized brands as Unico and Carrier to offer rewarding options and unmatched features. Family owned and operated, we are large enough to handle your needs and small enough to care. Contact Guardian Heating & Cooling Service at (773) 231-9175 to hear more. We provide expert and affordable high velocity HVAC installation, maintenance, and repair throughout Lincoln Park, Skokie, Chicago, Niles, Evanston, Wilmette, Park Ridge, and Morton Grove, IL.
Serving Chicago, IL and surrounding areas